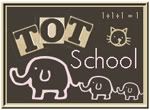 Letter: F
Shape: Triangle
Number: 2
Despite us all having head colds compounded with 2 year old molar teething I am impressed we were actually able to get some things done. Of course Legos continued to be the favorite toy of the week. Sometimes S will get them out 3 times a day and start building his towers.
Monday:
We worked on the handouts from
1+1+1=1
a little bit. But we only felt well enough to use the dry erase marker and work with the Play-doh. Daddy took S to gymnastics where he is really starting to get the hang of the Hokey Pokey.
Tuesday: We were feeling a little better so we decided to go to the library for storytime. Luckily the theme of story week was Parts of the Body! So S got to participate in lots of poems and songs about the body including our song of the day - Head,Shoulders,knees, and toes. We were both beat when we got home so we just played with Mr. Potato Head (another favorite toy of S's).
We got a few more books at the library.
Thursday: I cut out different parts of the body from the 1+1+1=1 handouts and taped them to some homemade dice that I made. We then rolled the dice and if the dice landed on "ear", I had S touch his ear. He was actually fairly amused with this game and learned some new vocab very quickly - ear, foot, eye, nose, mouth.
I got sucked into the $1 aisle and clearance section at Target and got S a few new supplies: watercolors, 5 reams of drawing paper ($.74/ream), huge book of stickers, dominoes, growing capsules. So today I got out the water colors to color his worksheets.
Of course what would be Parts of the Body week with out finger paints!
We finished up the day with some puzzles.
Friday: Today was craft day. I cut up a bunch of triangles and had S glue them to a piece of paper. We then of course had to get the dot paints out for a little bit. I also tried laying the left over triangles on the floor for S to hop on but he was not in the mood for any more tot school. So we relaxed to a little Super Why! (S's new favorite show) and he worked on sounding out the letters.
Saturday: Cooking with Daddy! This week's cooking activity was instant pudding.
Step 1: Always make sure the counter is clean.
Step 2: Make sure you have your ingrediants
Step 3: Mix all ingredients together
Misstep 3.5: Don't show 21 month old the timer as he quickly loses interest in cooking project :)
Step 4: Eating what you cooked, one large spoonful at a time.
Next week's theme: Fall